CODIJY Trial
The trial versions of CODIJY software allows you to try all its tools, features and save your work to CODIJY documents (MGD) for 15 days without registration.
Note that after registration you will be able to open CODIJY documents saved in the trial version, generate colorized results and export them to the images without watermarks.
Enter Serial Number
To ulock the full version, enter your Serial Number into the Registration dialog.
Step 1. Copy and paste CODIJY Serial Number into the Registration dialog. We do not recommend typing it manually.
NOTE: If you still have to type the Serial Number in, keep in mind that zeros and Os may look alike; same applies to L, I and 1 .
Recovery email. In the newer versions, the program suggests to enter your email address to facilitate the potential recovery of your Serial Number. It will will help us to instantly locate your serial number, in case you accidentally loose your copy of CODIJY and related documentation. We strongly recommend using the valid email you have access to, as the serial number will be sent to it.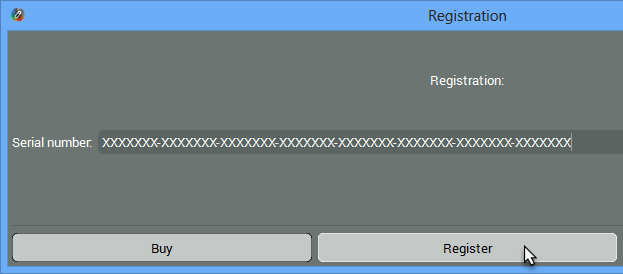 Step 2. Click Register.
Step 3. Restart CODIJY.
TIP: CODIJY may not accept the Serial Number instantly, after restarting the application. Please work in the program for a minute (perform a few actions), before the Trial watermarks disappear from the Result preview.

Open the Registration Dialog in CODIJY trial
When the program is in the trial mode, the Registration dialog does not show up each time you launch CODIJY. To register the software, please call the Registration dialog from within the application.
Note: CODIJY software has different layouts for large and small screen resolutions. In case, you don't see the top toolbar and Main Menu, please check out how to change layout, enable toolbars and enable main menu.
Option 1. Click the Register button on the toolbar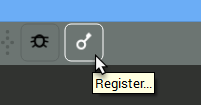 Option 2. Navigate to About -> Register

Option 3.
Step 1. Click CODIJY logo on the toolbar to call the About dialog.


Step 2. click the Key icon in its bottom right corner.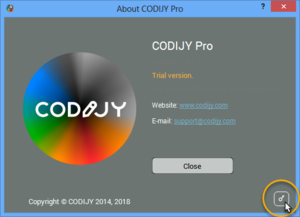 Activate CODIJY on multiple computers
You are allowed to use the same serial number to unlock the full version of CODIJY on 2 different computers. Simply, follow the above steps on each computer.
If you wish to move the copy of CODIJY from one computer to another, uninstall the software from the computer, you will use no longer.